Subscribe for Sprite
---
Price: $29.99 / year
Enjoy smart watering for just $2.49/month
Works in United States, Canada and Mexico
In Stock
Free Shipping & 30-day Money Back Guarantee. Shipping Policy
---
Introducing the Subscription model
Subscription for Sprite is a new service product offered by Netro directly. With a subscription, you pay for the Netro cloud service annually, with the hardware device included for free. The subscription model is the perfect choice for you if you like the lower up-front price and lifetime hardware warranty. Here are some answers to the most frequently asked questions about the subscription.
What happens when I subscribe for Sprite?
We will ship a 12-zone Sprite controller including the 24VAC power adapter to the shipping address upon checkout. You install the Sprite and activate it on the same Netro account it was purchased with. If for any reason you are not completely happy with the service, you can return the Sprite within 30 days of shipment for a full refund and cancellation of the subscription.
How do subscription renewals work?
When you purchase the annual subscription from Netro, renewals occur automatically and the credit card you used to purchase your subscription will be billed automatically. Renewals occur every year. If your credit card has expired when it is time for a renewal, you will be notified via email and will be able to update your payment information.
What happens when I cancel my subscription?
You can cancel your subscription anytime. When you cancel your subscription, your credit card will not be annually billed anymore and you will be issued a prorated refund* after you return your Sprite to us. You also won't be able to use the Netro cloud service if you cancel the subscription for the Sprite on your account.
What if the device stops working or has some issues?
We will repair or replace your Sprite during the period of active subscription.
*Prorated refund: You pay in advance for a 1-year subscription but decide to cancel at the end of 6 months, a prorated refund is half the annual fee.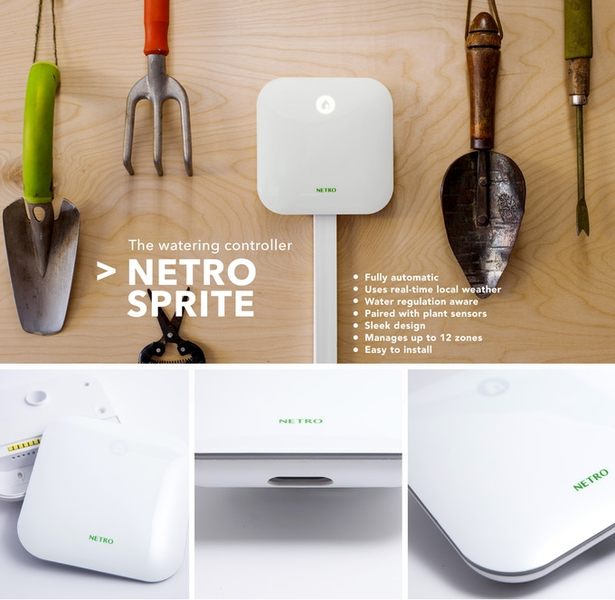 Mechanical Specifications – Dimensions: 5.7 X 5.7 X 1.2 (inches) – Weight: 8.2 oz / 230 g – Shipping weight: 35 oz / 980 g – Output: 12 zones + 1 master valve – Wire size: 18 AWG to 22 AWG – Box contains: smart irrigation controller, AC adapter(110V->24V), wall screws, quick installation guide Electrical Specifications – AC Input: 24VAC, 50/60Hz, 800mA (adapter included) – Valve output: 24VAC, 50 / 60Hz, max 10VA – Master valve: 24VAC, 50 / 60HZ, max 10VA – WiFi: 802.11 N, 2.4Ghz, US / Japan / EU Warranty – Lifetime limited hardware warranty – Indoor operating temperature range* : – 4° to 122℉ / -20℃ to 50℃ * For high temperature environments please ensure adequate air flow in vertical position.